Welcome to the Black Student Union's website at the University of Mississippi. Please utilize our website to find information about BSU and other campus events and organizations.

4th Annual BSU Gala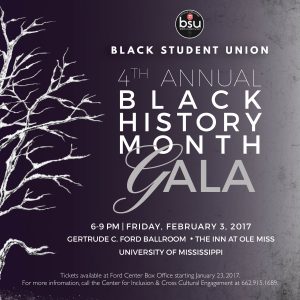 The Black Student Union's 4th Annual Black History Month Gala will be held on Friday, February 3, 2017, at 6:00 p.m. – 9:00 p.m. in the Gertrude C. Ford Ballroom located in The Inn at Ole Miss. Tickets are free and can be picked up from the Ford Center.
For attire examples, look at previous guest's attire of the BSU gala.